Welcome to Friday Fragments! Speaking of bits and pieces...earlier tonight, I fell (going into the house carrying all kinds of crap!) and came close to breaking my right forearm. I think the bone is okay, but I smashed the muscle quite beautifully across the metal threshold. Luckily, I started this post earlier in the week (and the brace on my arm is allowing me to type the finishing touches! Anyway, welcome!
[For more information and Friday Fragments do's and don't's, click on the button above.]
***
So
excited to go to the "Willy Wonka" musical at the middle school tonight, with Kendall. It's going to be amazing!
***BTW, Qoop gave me a full refund on my printing order. They invited me to re-submit
my invitation photo
with different parameters. I'm sticking with Office Max.
***Hey! Guess what?!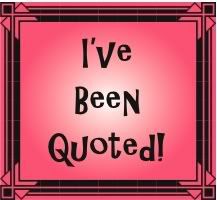 I was quoted on a blog I've never been to, until I was notified. Quoteables in the Blog World is
"a list of phrases said during the week that stood on their own and were funny as hell. They were phrases that not only inspired giggles and snorts, but frequently prompted the question "what brought THAT up?"
Check it out--you'll get a good laugh or two.
***40 x 2 x 10 to 15 = 800 = 13 hours (conservatively) that it takes to reply to 40 fragmenters via email, plus spend quality time reading and commenting on each FF post and then catch up on each individual blog if I can (since I
enjoy
catching up and try to do so often). That's 13 hours per week, in addition to my full-time job and life, if I'm a perfect blogger, which I am not. Just wanted to explain why I sometimes don't get to your blog in a timely manner. And remember, that those 13 hours only refer to Friday posts, and I haven't even calculated the time it takes to reply to
other
comments, so
thank you very much for your understanding
. I appreciate you very much and hope you know it. Love you guys...
[Oh, and P.S. Replying to your comments is much easier when you leave your email address or have it in your profile, hint hint :)]
***
Adrienne
is featuring Half-Past Kissin' Time on her "Tip Top Spot" on her blog,
All These Things
. Thank you for the recognition, Adrienne; you're a sweetheart.
***I've done very little except work this week at home, in the evenings. Summer cannot come soon enough...
***My cousin Margaret left me the
best
birthday greeting on Facebook!
The number 47 is not only odd, it's a PRIME number (it can be divided by no other number besides 1 and itself). Honey, you are in your PRIME! Happy Birthday!!
Thanks, Margaret!!
That's it for me; gotta get off the computer and ice my arm again. Now's your chance to make some new friends and link up your FRIDAY FRAGMENTS POST. But for heaven's sake, be careful!