I feel like I haven't fragged in forever! I guess I'm just full of random bits and pieces from the week; I'm grateful for a place to unload it all and be refreshed for the weekend. I encourage you to do the same! :)
***In case you're interested and you missed it, I posted a
puppy update
on Sunday.
***Ellen Stewart has started a pubic
Advent group on Facebook
for sharing and reflecting in your own home, and anyone who'd like to participate is welcome. Feel free to share the group with anyone you think might be interested.
***For what it's worth, to comment here via Disqus, you need to have a Disqus account, which is quick and painless, I assure you. If you'd like people to be able to click on your name and be led to your blog, you must also add your blog url to your Disqus profile.
***I made a delicious
Crockpot Ham and Potato Soup
last week, from Thanksgiving leftovers. After that, I made
this 15-bean soup
, which was a huge hit. I'm thinking seriously about making that one for this year's
Soup Swap
.
***While browsing my Mrs.4444 Cooks site tonight, I made two exciting observations! One is that my Christmas Cake Pops post has gotten 440 hits on it! Even cooler than that, though--my
Baby Shower Cake Pops
post has 17,525 hits! It's not too late to make my
Berry Mallow Bake
for a holiday meal, by the way; in real life, that's probably my most raved about recipe.
***Have recent (last year) cuts in education impacted you or your family directly? I'm thinking about writing a post about this.
***If you like snarky, amusing football commentary about the Green Bay Packers, check this out.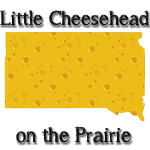 She has a very creative feature in which she recaps the NFL football week in Tweets she's gathered from various vans; it's brilliant. Here's
Week 11
.
By the way, I stumbled upon Little Cheesehead via a new HPKT visitor,
Bee
.
***Yesterday, I posted one of my favorite seasonal blog posts, Making a Difference, which was inspired by a former student. I learned today that "Kelly" is doing well at the high school. She is a straight-A student who still has some issues but seems happy.

Okay! It's your turn! Link up your FRIDAY FRAGMENTS post. If this is your first time fragmenting, please click on the FF tab above. Thanks!